Covid-19 Lockdown
Lockdown is a state in which people of a specific region are forced to stay in their house or a limited place lockdown refers to the suspension of the usual privileges of citizen regarding their movement and socializing.
Essay on Covid-19 Lockdown
Lockdown simple means closed specific point and stay at home to save the lives of people during a mischance or epidemic. All other services are banded except alternative services. People may be allowed to go out of the house if in case of urgent work or emergency. No person can go outside form the house without the important work.
It is implemented by somehow is in power. Lockdown is a condition in which people cannot come in or exit in a specific or other words we can say that define area. It is a preventive action plan of government to ensure softly of people and system during on epidemic or disaster. The government does Lockdown for some specific purpose like, natural disaster, war or an epidemic. The Covid-19 has forced many countries across the world to implement a lockdown.
Covid-19 Lockdown
Positive and Negative Effects
It observed that the during the lockdown it impact positive and negative effects in the daily routines or other words we can day during the lockdown human life following the impact in the life 
Positive effect of Covid-19 Lockdown
Sufficient Sleep: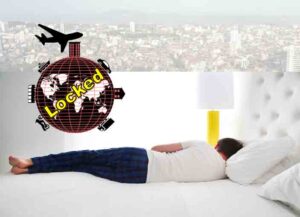 During the other working days, peoples do not have a time to take rest due to the workload like travel one place to other place, or late nigh work at home even late nigh work at office or other assignment of offices. The during the lockdown people are stay at homework from home. That we have much time to take the rest or sufficient time for sleep. It is good for our health lifespan.  
Eating Healthy good Home Cooked Food:
Yes it one of the good things or other works we can say that best positive thing or point that is eating the best and good home cooked or homemade food eating at home. Because all time we spent at home and take home made food. In covid-19 lockdown period all the cafeteria or hotel, restaurant fast food or other kind of service are closed and we cannot order. As a result, we are eating home-cooked food. Home cooking regularly uses less oil, fresh elements, and little to no processed foods, making it a healthier option than eating out.
Family Time Indoor Game:
This also one of the most positive point of lockdown that we spend time with the family members. Other days we cannot spend more time to our family that they are required due to workload. The life is very busy and we do not have time to spend with the family members like Mother, fathers, children. However, the during the lockdown period we all time spend with the family members, like play different types of indoor games like:
CAROM
CHESS, SCRABBLE UNO MUSICAL
PICTORUARY
  SNAKES
LADDERS BUBBLES
TAPE MAZE DESIGN
SOCK BASKETBALL
HOT POTATO
CHARADES
INDOOR BOWLING
MUSICAL CHAIRS
INDOOR OBSTACLE SARDINES
HIDE
SEEK
Card games ETC. During the lockdown period cook new recipes with the children and give more time to our lovely parents. The spent more time  together with the family  is a one of great way to relieve stress and develop mental health as well as.
Negative Impact of Lockdown
Negative impact of the lockdown during COVID-19 health-related behaviors of people and psychological comfort in people living with severe and complex obesity in the all around the world.
One of major impact of lockdown of education of children. The education of children is badly effect because of schools are closed and the child could not attend the schools the result is loss of their education or other words we can say the education system is going down.
Side effect
Covid-19 Lockdown
The number of COVID-19 patients is increase day by day and hence the lockdown has been extended for a long period. Although the lockdown is fulfilled to prevent COVID-19, sustained lockdown will have many side effects in the society.
Almost people will lose their jobs during the period of lockdown. Lockdown period will create have negative impact on the countries economy. Many business will also suffer huge loses because of lockdown period.
Even though agricultural activities are not halted during lockdown, many farmers have suffered losses because there is no good market available for fruits, follower or other kind of products. People do want to purchase the agricultural product but lockdown has becomes a barrier.
Many migrant worker reached their villages by walking, as transport was not available. Such migrant workers had to face many difficulties like lack of food and water. Some lost their lives while traveling.
Lockdown has put a bad effect on almost all sectors. No doubt, poverty is going to increase a lot. During the lockdown we observed that increase in poverty may lead to increase in crimes like robbery and theft.
Kids are not able to step out of their houses. However, lockdown is stopping them from playing outdoors.  
People are not able to socialize. Because party's functions cannot be organized during lockdown, people are not able to meet family and friends. This can lead to stress. In period of lockdown people are trapped in their houses with the fear of COVID-19 fear of job loss and lack of money. These things are initiating stress amongst people.
 People jobless
Uncertain over salaries
Forced isolation
Stressed household
Darning the lockdown Public (people) could be allow to go out of the house in case of serious work and emergency.
What will be closed during lockdown:-
No public transport service
Intercity or inter province is allowed in which inter bus services, train services aero plan services or other kind of transport all types of services are closed. 
Educational Institute Closed
The time of lockdown period all government or private schools, government colleges as well as private colleges and government of universities as well as private universities remain closed during the lockdown period.
Shops
Other shops like
Hardware shops  
Electrical shops
Libraries
Clothing shops  
Mobile shops  
Jewelry shops  
Weekly markets
Super markets   
Factories
workshops 
Offices
Warehouses, etc.
All above shops are remain closed during the period of lockdown period 
Flight Closed
All national and international flights and railway services are closed during the period of lockdown. 
What will remain open during lockdown? 
Milk shops, vegetable shops, medicine stores and ration shops will remain open during the lockdown period. 
All kinds of Hospitals and clinics will also be open during the lockdown period. 
All cash
Banks
Essay Paisa
U-shop other kind of   related facilities will continue in the period of lockdown. 
Internet service provider
Telecom
Postal service
Will also open during the period of lockdown. 
Petrol Pumps
CNG
LPG
PNG
Work of fire department
Electricity department
Water board
Health workers
Jail department
MC (Municipal Corporation) will also continue to clean and lift the waste during the lockdown period. 
Media staff workers are work to visit during lockdown period
Exemptions can also be acquired from the management for important work
Close during Covid-19 Lockdonw 
Public transport, schools, colleges, offices, shopping malls, and flight services are closed during lockdown.
Open During Covid-19 Lockdonw
Hospitals, banks, grocery store, petrol pumps, and electricity department are open during lockdown.
Internet, telecom and postal services are also continue during lockdown. In lockdown, the poor people are finding many difficulties to earn money. The positive thing happened during the lockdown it that the nature is benefited, reduced population, and many rivers have become clear during lockdown.
During the lockdown, it is responsibility of everyone is to follow all the rules and instruction made by the government.
After the coming of coronavirus, lockdowns have become very common in our life.
In simple words, a lockdown is a period of time when we have to stay at home.
Darning this period everything remain closed expect some essential services like hospitals, grocery store, medical stores etc.
Generally, a lockdown is imposed in case of a pandemic, war or a nuclear disaster.
In the present time, many countries are witnessing lockdown due to the corona virus pandemic.
In Pakistan, the first covid-lockdown was announced on March 2020.
Lockdown is something that affect people from all background and especially the daily wagers.
Some of the main problem during a lockdown are unemployment, poverty and starvation.
During this period, education and religious activities are also affected very badly.
Overall we must keep in mind that lockdown are imposed only for our welfare so it is only always our duty to follow the rules of lockdown.
Lockdown refers to the suspension of the casual privileges of citizen regarding their movement and socializing.
It is implemented by someone who is in power and hold the responsibility.
It is applied to save people form hazardous situations like war, natural disaster o on epidemic. In simple words, a lockdown is a complete restriction of human contact with the outer world.
During this period everything is remain, closed people are allowed to go out of the house only for gracorery, medical consultation or some emergency.
For Futher Updated keep follow the flloiwng link
For new Jobs line