EID UL ADHA 2021
ALLAH blessed us with two Eid, Number one is Eid ul Fitar and second Eid is Eid ul Azha (Eid-ul- ADHA). We celebrate Eid ul ADHA on the 10 th of Zilhaj.
Eid is a happily time. Eid is bringing happiness to all Muslims of the World. Eid-ul-Azha is also called Bakra Eid because people bring goats, camels and buffaloes to scarifies in the money of Hazrat Ibrahim (.AS). they distribute meat of these animals in three equal shares. One share for needy, another share for relative, and third last share for themselves. They also decorate third hosed on Eid. They give their hose a new look. Early morning everyone starts with getting ready. Especially children look very happy.
Eid ul Adha – Qurban  /Karbani Eid 2021
In Eid qurban 2021 children's faces glow with innocent pleasure. They wear new clothes. Men and children go for Eid prayer. After offering prayer they return and make scarifies of their animals. People go to each other's house to give meat and with Eid Mubarak. This Eid lasts for three days. People usually sacrifices their animals mostly on first and second days but small number rarely on third day. There is a great festively on Eid people arrange parties and get together. This job comes to an end on the third day of Eid.
Eid ul Adha 2021 Takbeer :
Muslims celebrate Eid Ul Adha on the 10th of the Islamic month Zil Hajj. It continues for three days. It is celebrated for three days. It is celebrated in the memory of Hazrat Ibrahim (R.S) love for Allah.This is to gain the pleasure of Allah. The meat is shared amongst the poor relatives, neighbours, and friends. The Muslims want to show that they can sacrifice everything for Allah. Allah will give reward in return. There is a great festivity on Eid. People arrange parties at home or outside, they are enjoyed get together. This job come and end on the third of Eid.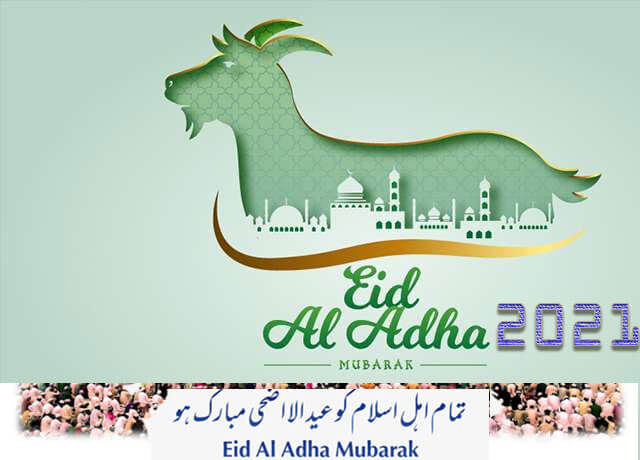 10 lines on EID UL ADHA (Eid-ul-Azha) in English
Eid-ul-Azha is a religious festival of Muslims.
It is celebrated on 10th zul-Hajjah of Islamic month
Eid ul Azah is also named as big Eid
Eid prayer is offered on first day of Eid.
Muslims take a shower or bath on Eid day and wear new clothes
Top 5 line on about EID UL ADHA 2021
Muslims sacrifice their animals like goat, sheeps, cows and buffaloes etc.
Muslims sacrifice their animals in the remembrance of Hazrat Ibrahim (A.S).
The meat of animals is also distributed among pooper and helpless people.
Sweet and taste dishes are cooked on Eid day
eid ul adha Mubarak all of you in advance
Story of Kobani / Qurbani / Karbani – Eid al Adha
Eid al-adha is a celebration which takes place on the 10th of dhul Hijjah it marks the end of the hajj pilgrimage and the beginning of the ritual of Kobani / Qurbani / Karbani.
This Eid is all about remembering the story of the Prophet Ibrahim (A.S) had a beloved son called Ismail (A.S0 one night Prophet Ibrahim (A.S) dream that Allah told him to sacrifice his son Hazrat Ismail (A.S).
Three Night continually Hazrat Ibrahim (A.S) had the same dream again commanding him to make the sacrifice his son Hazrat Ismail (A.S) Hazrat Ibrahim (A.S) realized that it was a message from Allah he loved his dear son but was prepared to follow a last command in for him to kiss my ultimate Arafat and told him about the last command of Allah in his dream
Hazrat Ismail (A.S) was such an obedient child that he was prepared to be the sacrifice then elastin tan and brown replacing Ismail who remained unharmed Hazrat Ibrahim(A.S) was surprized when he heard / got a voice which said him that Allah looks after his faithful follower and as faithful followers of Allah's command.
Hazrat Ismail(A.S) life had been spared Hazrat Ibrahim (A.S) and his son had passed a challenging test from Allah and so to commemorate the obedience of Ibrahim (A.) Muslims performed Kobani / Qurbani / Karbani the sacrifice of an animal during the last Islamic month of dhul Hijjah and remember the greatest sacrifice in history during the celebration of Eid ul Adha.
Q & A Eid Ul Adha 2021
Important questions and Answers regarding Eid ul Adha 2021 : Some questions and their answers regarding Eid ul Adha 2021.
 What Does Eid Ul Adha Represent?
Eid ul–Adha or Big Edi Festival of Sacrifice. Eid ul Adha is one of second largest =important festivals in the Muslim calendar for the Muslims. In this festival (Eid-ul Azha) remembers the Prophet Ibrahim's (A.S) willingness to sacrifice his son when Allah ordered him to.
When Can You Cut Hair Eid Ul Adha?
A person who are getting Qurbani or other words we can say that a person how are getting sacrifice that person Cutting Nails and Trimming Hair are not allowed during the 1 Dhu Al Hijjah to 10 Zulhaji or other words we can say  first 10 days of Islamic month calender date Dhu Al Hijjah
Q. What Is Meant Eid Ul Adha (Eid-Ul-Azha) And How All Muslims Are Celebrated?
Ans. Eid Al Azuah   which is also best known as the festival of sacrifice. Eid Al Adha it is celebrated by muslims all over the world. this is the second most important Islamic festival in the Islamic calendar the first being Eidul Fiter. Eid al Adha is celebrated on the 10th zulhija which means the month of the pilgrimage every year based on the Islamic calendar the Islamic calendar is a lunar calendar and it is start based on the sighting of the moon of every month.
Lot of eid ul adha 2021 mubarak
Q. What Is The Animal Kind Sacrifice On Eid Al Adha?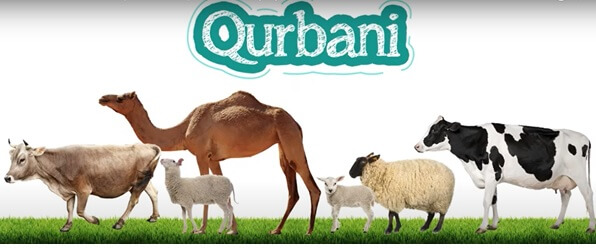 Ans. The animals that can be slaughtered on   Eid Al Adha either the goat, sheep cows or camels.
Q. How Many Parts Qurbani Meat Divided In Eid Al Adha?
Ans. Distributing Qurbani Meat in Eid Al Adha in following way:
Following the slaughter, the animal is then divided or split into three portion or shares:
one portion or share for the donor
one portion or share for the donor's friends
one portion or share for a person in need.
 Q: When Should We Give Money For Qurbani?
Ans. Frist of all Qurbani is one of major element of Eid-Ul-Adha. It is best way to purchase animal for Qurbani themselves and pay the money for Qurbani animal. And Eid ul Adha Qurbani perform as early as possible. The time for Qurbani is start after praryer of EID (Eid Namaz) or simple words it start Namaz offering the sacrifice begins after the Eid prayer on Eid-al-Adha and ends when the sun sets on the thirteenth of  Zul Hijjah..
Q. What is the rule of Qurbani?
Ans. The Rule of Qurbani is that the sacrificed Qurbani Animal meat should be separate three portion or three parts and distributes equal among the three parts
Qurbani Parts of divide into below three portions
eid mubarak wishing
The family
friends
the poor.
 Q. How Is Eid Ul Azha Qurbani Meat Divided In Islamic Way?
Ans. Qurbani meat divided into three parts or make three portion



Happy eid ul adha 2021 Mubarak to all Muslim Umha
First portion or part is for poor or vulnerable people.
Second portion or parts of Eid-ul Azha would keep own family (circle of relatives family members)
Third last a part of the Eidul Azha or final third to their neighbours. 2nd day of eid ul fitr mubarak
Q. Is Qurbani FARZ or Sunnah?
Ans. The Qurbani is Sunnah consider in Islam
Q. When A Muslim Performs Qurbani Themselves, They May Make A Share / Split The Meat I Three Portions As Be Above Mentioned And Disturbed.
Ans. Eid is an Arabic word means festival. It is a regions festival of Muslims. There are Two Eid for Muslimis in a year one is Eid ul fiter and second is the Eid ul Azha
 Eid Qurban : Eid Adha : Qurbani Eid 2021 More
Eid ul Azha is Arabic word and refers to Qurbani that means Eid of sacrifice Eid ul azha is celebrated every year by Muslims all around the world on 10th Zul Hajj of Islamic calendar.
Eid Ul Adha Or Bakar Eid
It is also known is Big or Bakra Eid. Muslims celebrate Eid ul Azah in the remembrance of Prophet Hazrat Ibrahim (A.S). Hazrat Ibrahim (A.S) make himself ready to sacrifice his son (Hazrat Ismail (A.S) Hazrat Ismail (A.S) for the sake of Almighty Allah. In Eid ul Adha, Muslims sacrifice their animals in the remembrance of Hazrat Ibrahim (A.S). The meat of Animals is also disputed in three portions among the Poor and helpless people. Eid ul Azha is give us clear message of devotion Kindness and equality. eid qurban date is month of July 2021
2021 Eid Ul Adha Date – Eid Information
Eid al Adha 2021 date is coming of month of July 2021
 EID UL MUBARAK EID QURBAN 2021 MUBARAK ALL MUSLIMS OF AL AROUND THE WORLD
Our Next Article