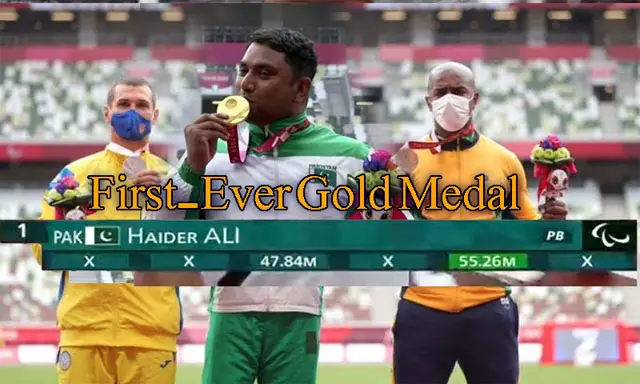 Tokyo Paralympic Haider Ali Won Pakistan's First  Ever Gold Medal  
Pakistan's first ever Gold medal won Haider Ali. Haider Ali  basically from Gujranwala   and  Pakistan's First ever Gold Medal won  Haider ali  in the discus throw at the Tokyo 2020 Paralympic Games on Friday, becoming the first Pakistani to do so.
Pakistan's First Ever Gold medal Won Haider Ali
Haider Ali is the first Pakistani won to give a gold medal to Haider Ali for his country (Pakistan) with a throw of 55.26 meters, which was also his personal best score. According to Radio Pakistan.
Paralympics Tokoyo Second Position 
Tokyo Paralympic Mykola Zabnyak of Ukraine finished second in the discus throw with a score of 52.43 meters.
Third Number in Tokyo Paralympic discus throw
Third number r in Tokyo Paralympic discus throw game Brazilian Joao Victor Teixeira de Souza Silva won bronze with a throw of 51.86 meter.
Haider Ali Winner
Celebrating his first happiness after winning the gold medal, Haider Ali said that the athlete said that the gold medal would be very important for parasports in Pakistan as others would see what can be achieved through hard work.
I hope my success will be a play role model for other people of Pakistan who are disabled and those who do not participate / play part in sports will participate in sports/ game, said Haider Ali, a Pakistani athlete.
Japanese Ambassador to Pakistan Matsuda Kuninori congratulated Haider Ali on his outstanding performance and gold medal for his great talents and wished him well for his future endeavors.
Furthermore Matsuda Kuninori say  I am very happy to see the success of Pakistani athlete in Tokyo Paralympics in the shape of gold medal. Ambassador give Mubarak to Haider Ali, his family and the people of Pakistan on this great achievement of winning the Gold Medal.
The US embassy in Islamabad also congratulated / Mubarak to Haider Ali on his great victory
Pakistan Prime Minister – PM Imran Khan tweeted for Haider Ali, who won Pakistan's first gold medal.
Information Minster Fawad Chaudhry Tweet
Pakistan's Federal Minister Fawad Chaudhry took to Twitter to thank the player for the victory. We are proud of you.
Haider Ali Biography Winner of Pakistan's First Ever Gold Medal Won Haider Ali 
Haider Ali – from Gujranwala – suffers from cerebral palsy. This is not the first time that Haider Ali has won a medal for Pakistan. Haider Ali has won many medals for the country before.
Haider Ali Medal Record
Haider Ali won medal record is given below
Medal: Bronze
Year 20216
Rio Paralympic
Medal Sliver
Year 2008
Beijing Paralympic