Introudction 
Classroom design for early childhood & Montessori education system settings to support developmental growth. The Classroom environment is an essential component for every student special for early classes.  For maximizing learning experiences for young children, a teacher can create a classroom that captivates and encourages many senses.
Aspects For Classroom Design for Early childhood & Montessori system
Using the various aspects of design a teacher can effectively motivate all who enter the environment. Stimulate those that occupy the environment and rejuvenate. Those whose interest in the space is start to fade. Preschool classroom layout.
First Aspect is Texture For Classroom Design For Early Childhood & Montessori system  
Texture in the environment offers visual awareness and depth while also providing children with unique tactile experiences. Texture is often overlooked in the early childhood classroom. When it may be one of the most important as children interact with sensory elements. They improve both their observational and fine motor skills so looking at this picture.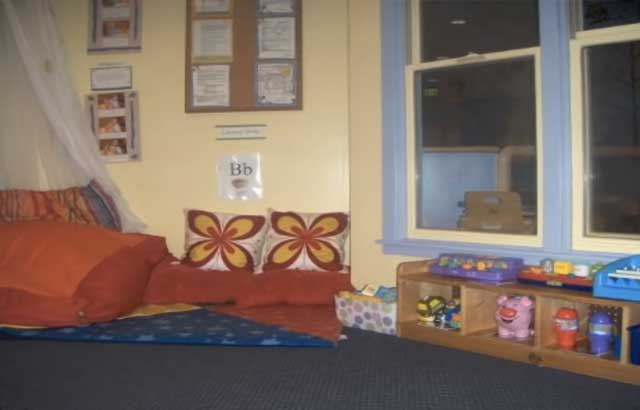 We can see the textural components and softness creating a cozy, comfortable environment also reducing noise level using pillows, beanbags or August drapes and tablecloths.
other examples include sensory tables, sand and water tables and texture walls things on texture walls can be Velcro sand paper felt velvet quota ROI looking at this picture
Here we also see tissue paper and bubble wrap overall, including texture in the environment.
The second Aspect Is The Color For Classroom Design For Early Childhood & Montessori System  
  Adds complexity and encourages children to compare, contrast and experiment aspects to be color. Color can be influential in both positive and negative ways. Improper use of color can overstimulate and confuse children. Appropriate use can create a mood and reflect children's communities. Additionally, color can be used to define space and increase spatial awareness and young children.  As looking here at the picture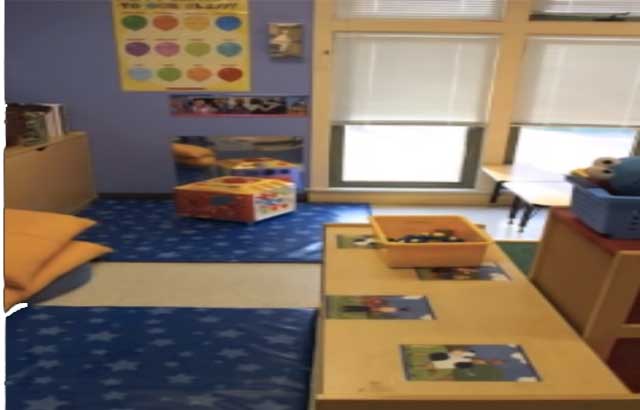 We see the two colored mats with the same design to avoid overstimulation then we can also look at the wall painted a nice calm and soothing color.
The Third Furniture Aspect For Classroom Design For Early Childhood & Montessori System

 
We can also see pictures on top of shelves with themes to create a sense of awareness. Furniture and other Classroom objects. Identify classroom areas such as dramatic play art music and science when the objects are realistic in size properly. What's more, having appropriately sized materials allows children to build independence and self-esteem.
We can see in the shelving from this picture that all the materials are at arm's reach and very low to the ground. We can see in the background the tables and chairs appropriately sized for children in an early childhood classroom.
The Fourth Aspect Lighting Classroom Design for Early Childhood & Montessori System

  
 Its elements multiple sources of light create an atmosphere of relaxation and contemplation by using light and supportive ways children are able to interact creatively with others and with the environment. Various forms of lighting can enhance visual activity and positively affect mental health. The distinctive needs of students and how assorted types of light can support them lighting choices:
Include natural light as you see in the beautiful picture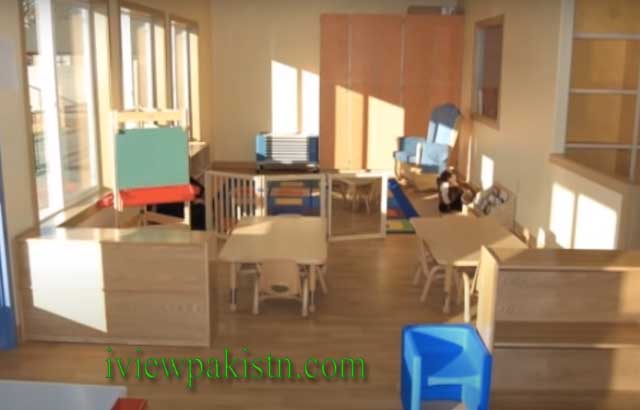 How nice that makes the environment. We can also choose full spectrum lighting options. Which are the closest to natural light and also daylight bulbs. Bulbs that simulate sunshine, there's also there's a lot of choices there so be sure to investigate that.
The Fifth Aspect Focal Point Classroom Design For Early Childhood & Montessori system  
As focal points when entering the classroom a distinctive focal point can draw attention to interactive learning centers, children's work, an architectural element or a beautiful work .Focal point's helps to children actively engage and contribute in the environment.
Looking at this picture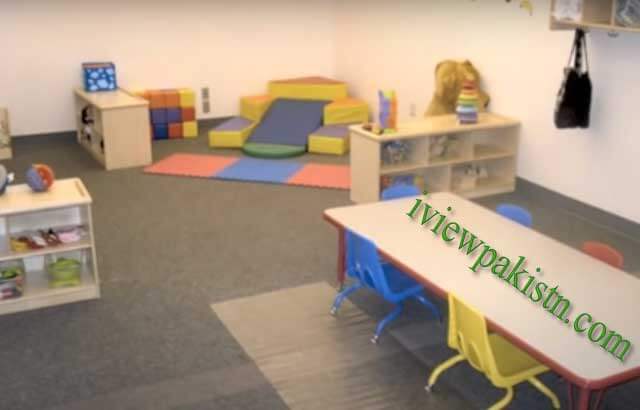 We are drawn immediately to the corner where the soft climbing materials are and this. Let a child know they can go to that space and freely move their bodies around in a safe manner. We also see the focal point of the table. It is a very distinctive space where things like snacks and lunch happen and you can see that there is adequate space for toys and other materials in the classroom.
  The Six Aspect Help Classroom Design For Early Childhood & Montessori System  
The last aspect of classroom design is to help collaborate with other teachers to brainstorm. Design ideas, observe other classrooms to get ideas to make use of various published materials on the subject of the classroom. Design and utilize assessments for reflection; one such assessment is the early childhood environmental rating scale revised. It assesses seven categories for improvement in the environment and one specifically being space and furnishings.  So utilize this tool assess your environment and reflect on what improvements you can make for the students in your classroom.
Childhood Brain Development Next Article
Indicators Of  Quality Early Learning Environment OR  Setup For Montessori System Of Early Childhood Education
Toys and materials where the children can reach them.
Children should be able to wash their hands in a sink that is at their level.
Provide child sized tables and chairs where their feet will touch the floor these factors all help children feel a sense of autonomy.
Make sure your environment has a few spaces where adults can interact with children by having furnishings both adult and child sized.
Take consideration in the flow of your environment provides an entryway where children can transition. When they arrive say goodbye to their parents and then join the group at childcare long straight hallways need attractive features that encourage exploration or else they may encourage quicker movement so use interesting lighting while displays and floor coverings to slow down traffic
The arrangement of your room can make all the difference in your early learning environment provide well-defined areas for different activities with identifiable boundaries
Maintain order in the areas where materials are stored for different activities by adding labels to the storage units
Develop your learning centers a science exploration center a dramatic play corner sensory exploration and a quiet reading area. When areas are well-defined children know what is expected of them in the
Area and how to use it appropriately also provides individual spaces for each child such as personal cubbies so they have a sense of belonging at childcare.
Try to make your environment,flexible so it can be transformed as children's needs change at different levels,angles and Heights to the environment to add interest
Provide open-ended materials that allow children to invent and explore
Try adding unusual items that will spark the children's exploration and curiosity
A mix of natural and artificial light helps create a variety of learning spaces
Use shades to manage the intensity of natural light provide lighting that is appropriate for the task
Remember that mirrors reflect light and dark colors absorb light
Changing the interior color of your childcare facility is an easy and inexpensive way to make a big change to the environment
Bright accent walls or patterns attract children to spaces but remember that light colors can make a space feel larger while darker colors can make it feel smaller
Curtain  fabrics, pillows and furniture can all be used to add color without changing the wall color get inspired but be thoughtful when you add color because too much can be overwhelming or disorienting for children
Texture in an environment can capture a child's interest
Use fabric furnishings and materials to provide different textures though textures can be felt, they can also be seen through patterns on the wall
ceiling or floor brings in natural objects to add texture such as stones or grass soft spaces that allow children to  unwind and relax are important in your early learning environment
Use comfortable furniture, pillows, books and quiet activities to create a getaway evaluate your child care facility
Try some of these simple and effective strategies to transform your program into a quality early learning environment you
Associate Degree Early Childhood Education (ECE) Offering Board/ Universities In Pakistan
STEVTA – Sindh Technical Education and Vocational Training Authority)
 TTB (trade Test board)
Virtual University
Agha Khan Board
Others offering the early childhood care and education – courses for early childhood education- ECE classes online- ECE Online course and early childhood teacher degree programs
Courses in early childhood education
Test Preparation Material Link
Sindhi Text Bookboard syllabus for PST and JEST post