Pakistan Independence Day 2021
Pakistan  Independence Day 2021 on August 14. It is Independence Day of Pakistan. Pakistan celebrates this every year.  In this year Pakistan celebrate 74th Independence Day.
Pakistan Independence Day, 14 August 2021
Independence day of Pakistan, it is annually held on August 14th. The Pakistani nation celebrates the independence of the country which was taken from British rule in 1947 on that date. A Pakistan Independence day declared as a Public Holiday as usual in the year. In the Pakistan independence day the National Flag of Pakistan is hoisted all government offices, public, private buildings, residences and monuments at dawn.
Short History of Pakistan Independence Day 
The Muslims also fought for independence from British rule and later armed themselves for their own country, Pakistan – now part of India's subcontinent. After the British overthrew the Indian rebellion of 1857, Crown took full control during the British Raj era. This continued until Pakistan's independence in 1947. The Mountbatten plan divided Pakistan (consisting of West and East Pakistan) from India, forming an independent Islamic state. In 1971, East Pakistan gained its independence, which became known as Bangladesh. Today, West Pakistan is called Pakistan only.
Q. How did Pakistan gain independence?
In the year of the 1940s, the Indian freedom movement planned a sequence of protests the aimed behind is that only ending British colonial rule in India. The growth of Muslim nationalism saw the creation of the All-India Muslim League, which wanted to safe the benefits of the Muslim movement in British India by forceful for the creation of Pakistan as a separate state from. The struggle for an independent Muslim motherland was commanded by Quaid-e-e- Azam Muhammad Ali Jinnah and was set with the separate from the India and the creation of Pakistan on August 14, Thursday day 1947.
 Q. Who were the important leaders of Pakistan during the independence movement?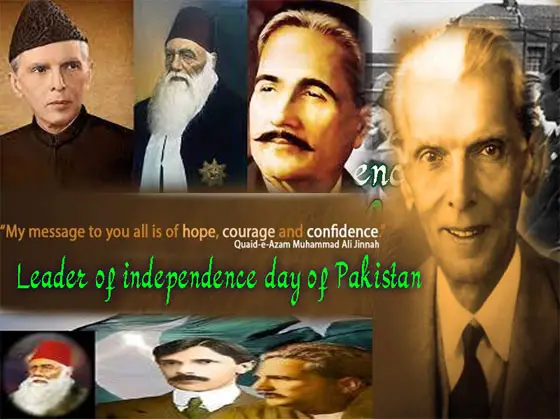 Leader of independence day of Pakistan
 Sir Syed Ahmed Khan
 Dr. Allama Muhammad Iqbal
Quaid –e- Azam Muhammad Ali Jinnah
In addition, many others who worked hard for the political, social and economic development of Muslims in British India. They all are played very important role during the independence movement. Today in Independence of Pakistan, we   celebrate their efforts, sacrifices and our independence; today all Pakistanis around the world establish independence programs.
How is Pakistan Independence Day Celebrated?
There is a ceremony in Pakistan's Independence Front to promote nationalism and national unity. The Independence Day of Pakistan 2021 will start with Thirty one (31)-gun salute at capital of Pakistan Islamabad and 21 twenty one (21)-gun salute at the provincial capitals
Punjab (Lahore)
Khyber Pakhtunkhwa (Peshawar)
Baluchistan (Quetta)
In the capital city of Pakistan Islamabad, at 9:59 am, a siren (alert) will be indicated and the traffic will come to a stop for one minute. Then the president of Pakistan will raise the national flag go with by the national anthem. The Pakistan president address the all nations of Pakistan on Independence Day.
When is the day of Independence Day in Pakistan in 2021?
The Independence Day 2021 is on the 14 August 2021 Saturday.
On the 14 August 11947, Pakistan takes independence and Pakistan is declares an independent state on the map of World.
Is Independence Day a Public Holiday?
Yes, Independence Day is officially declared public Holiday day. In this public, holiday the entire public, private offices remain closed.
What should Pakistani people do on Independence Day?



Pakistani People celebrate Independence Day with happy. Many people design the programs for independence days, some other peoples attend the Independence Day program with wear dress in green, and white that are the Pakistani flag's colors. People visit national places of that show us national significance to celebrate Independence Day.
Speeches Regarding Pakistan Independence Day
The Pakistan prime minister and Pakistan president address and congratulate the whole nation and talk about the day's importance and its significance.
In independence, programs are organized at different levels and prepared speech regarding the independence of Pakistan. In the speeches, speakers speak the importance of the independence and discuss our national heroes who worked hard for the political, social and economic development of Muslims in British India. Who are played very important role during the independence movement.
Pakistan Independence days 2021 main celebration points
Special Program Organized by Different Pakistani Channels
Fireworks
Tomb of Quaid-e-Azam
Tomb of Allam Muhammad Iqbal
Pakistan Museum
Play National Songs
Attending the independence ceremony
Special theatre shows
Special TV transmission
National song competitions
Concerts
 Some Questions and Answers Related to Pakistan Independence day 2021.
 Q. When is Pakistani Independence Day?
Ans. Pakistan Independence Day is considering  or known as the national day of Pakistan and is celebrated every annually on 14th August. On this Independence Day in 1947, Pakistan became the Islamic republic of Pakistan. This is the first Islamic republic when it gets independence from British rule.
What is the religion of Pakistan?
Ans. Almost Pakistan is the Muslim country with 94.4% Muslim and remaining Other religion(3.6%)
Q. When did Pakistan get independence?
Ans. Pakistan gets an Independence on Thursday, 14 August 1947.
Q. Why is 14 August 1947 an essential date for every Pakistani?

Ans. On  this day 14 August 1947 Pakistan gets the Independence from the British ruler. On this day we are celebrating annually held on August 14.
Q. When did Pakistan gain independence from Islam?
Ans. As per Islamic calendar Pakistan gain independence 27th of Ramadan in 1366) On 14 August 1947.
 Q. Who used Pakistan Word first time?
Ans. Pakistan word used first is Rahmat Ali.
Q. Who made flag of Pakistan?
Ans. Syed Amir-Uddin Kedwaii was made the Pakistan Flag
Ans. Pakistan geographical magnificence is famous. Because it contains Natural phenomena
Q. Which is the national sports of Pakistan?
Ans. Hokey is a national sports of Pakistan
Q. Which is the national bird of Pakistan?
Ans. Chukar is national birds of Pakistan
Q. How to observe Pakistan Independence Day? 
 Wear Pakistan's national colors
 Remember those who died for freedom
 Attend Independence Day's local festival
 Q. Is Pakistan a safe country?
Ans. Yes, Pakistan is a completely safe country
Q. Is this Pakistan's 74th or 75th Independence Day?
Ans. Pakistan celebrates 74th Independence Day Pakistan 2021.
For new Jobs in Pakistan 2021